By Randy Wollf | January 21, 2015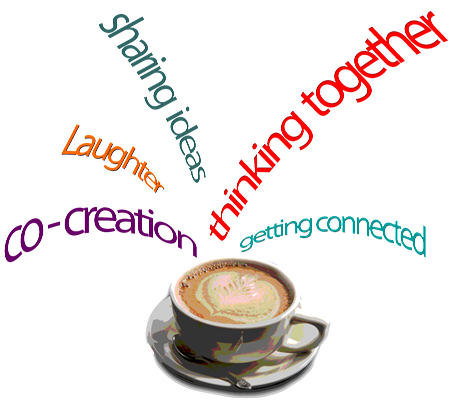 Imagine that you are in a café with people from all over the world. You sit at one table with a woman from Tajikistan and a man from Mali. Amazingly, you can understand each other. Then, you move to another table and sip coffee with people from Finland, Bolivia and Yemen. It's a rich experience as you exchange ideas and learn together.
The World Café Method of Learning is a tool for helping adults learn together – to build knowledge as an interactive community (you can read more about it at the World Café website). Here's what happens (my approach is slightly different than the one on the website):
Break a larger group into small groups
When I conduct a World Café of Learning, I will set up tables with four to six chairs around each one. This automatically forces people to create small groups as they enter the room. You can do this with groups ranging from ten people to hundreds of people.
Explain the World Café
I orient people to the World Café approach by painting the analogy of a world café like I did in the opening paragraph.
Invite groups to write down the discussion topic
Each table should have a large sheet of paper with several markers. Ask groups to write down the discussion topic in the centre of the paper. For example, at one of my World Cafés, the topic was "Teaching Adults Effectively."
Introduce the first question
My first question for the "Teaching Adults Effectively" World Café was: Think about a good teacher you have had as an adult. From your perspective, what made this teacher effective? Give group members 10-20 minutes to discuss the question and to write or draw their responses on the sheet of paper. Encourage groups to connect the ideas – to build knowledge together. When I do a World Café with a smaller group, I will serve a different dessert during each discussion round in keeping with the café theme.
Moving to a new group